2018 Miracles Summer Camps @ New Scorpions Facility
22130 Rothwood Rd, Spring, TX 77389
Camps will be held weekly June 4th through August 17th
M-F, 9am-3pm (Free Lunch & Snacks)
Cost: $249 Week or $59/Day (Buy 4 Save $100!)
All CAMP LEVELS for Baseball From Beginners to Advanced Campers!
CAMPERS ARE GROUPED BY AGE AND THEN BY ABILITY
Email: Camps@MiraclesBaseball.com
www.ScorpionsBaseball.org
COLLEGE BASEBALL Camps -  These will be held weekly throughout the SUMMER. Each week College Coaches will help with training and provide insights into playing at the next level.  Campers will be divided into groups witha  Camp Coach based on age/ability and receive professional training, play games, and have an awesome time all week!  All of our camps will conclude with breakout review/success  sessions with campers, their camp coach and parents!  Universities and Coaches we are working with so far:  Rice University, University of Houston, Houston Baptist University, Southwestern University, Richland College, Angelina College, and Texas A&M Corpus Christi.  (CHECK MIRACLES & SCORPIONS WEBSITE FOR UPDATED COLLEGE ATTENDEES)

Our Camps Cover - The Proper Fundamentals in Hitting, Pitching, Throwing, Fielding, Bunting, Base Running, Wiffle Ball Games, Sliding, Position Specific Work, Positive Atmosphere with Sports Psychology, Fun Competitions & Dodge Ball!
Camp Instructors:
♦ Mike Harris- Former Pro Player, Coach, Scout, College Coach, 30+ Years Camp Experience!
♦ Ryan Clyde: Former College All Star
♦ David Clyde: Former MLB Pitcher
♦ Reed Clyde & Thomas Clay (College)
♦ Approved Others
♦ COLLEGE COACHES
What To Bring:
Wear T-Shirt, Sneakers, Shorts or Ball Pants, Ball Bag with Bat, Batting Gloves, Helmet, Glove...Plus Bring an extra $5 per day for Snacks & Drinks.
Q&A "Which camp do I sign up for?
We Place Players Based Upon Their Age and/or by Skill Level.

All Players Camps (Basic Fundamentals & More)
Advanced Camp (Heightened Instruction for Higher Level Players)


7 to 1 Ratio!
Great Camps for 18 years!
AGES 6 & Up
New Facility-
8 Batting Cages
Turfed Infield
A/C Upstairs
Party Room
Training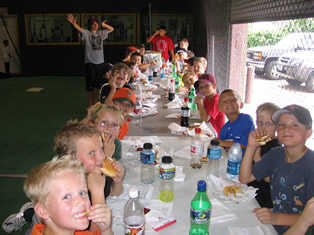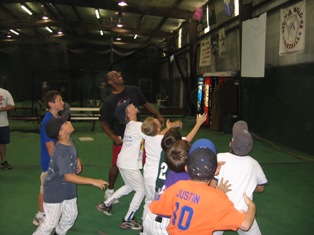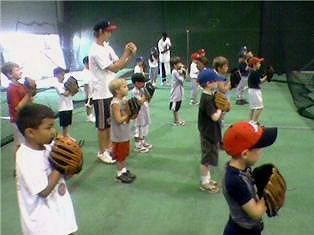 ---